The Hitchhiker's Guide to the Galaxy
and
The Shroud
aside again to read a few others (all photos taken from Google Images):
A Dog's Purpose
by W. Bruce Cameron
This was a great book. It's a great summer/beach read and a really enjoyable story. Anyone who has a dog should read it.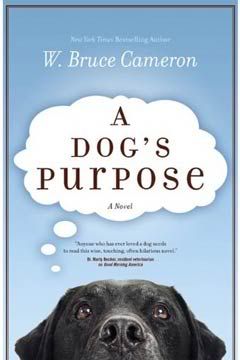 A Dance With Dragons
by George R.R. Martin (I've been waiting for this one for a while)
5th installment of his
A Song of Ice and Fire
series. Good story, a lot of set up, not much resolution.
(The TV show on HBO entitled
Game of Thrones
is based on the first book of this series, and they are currently in the process of filming season 2, based on the second book)
I bought this book for my Kindle because it is currently only available in hardcover. I have all the other books in paperback. I didn't want to wait to read it, but I'll purchase it in paperback to continue with the collection. :)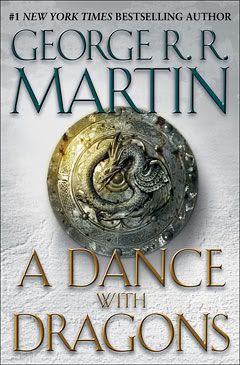 Juliet
by Anne Fortier
Really enjoyable read. I really like reading historical fiction, especially if real people from history make an appearance. The book goes back and forth between present day and 1340, which I thought was interesting as well.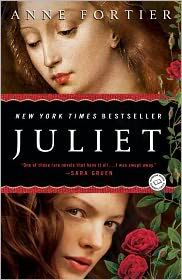 Now You See Her
by James Patterson
As always with his books, a quick page-turner that sucks you right in. Pretty decent. It amazes me how many different stories he can come up with!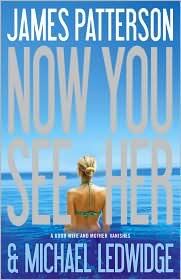 and now I'm reading
The Book Thief
by Markus Zusak
I only just started this book this morning so I don't have a fully formed opinion yet. Though it's unconventional, I do like the writing style.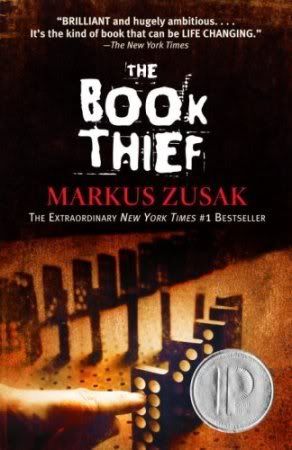 I'm trying to think if there are any other books I've read, but I can't think of any...I think those are the most recent...
In other news, I'm considering going back to school for my Masters Degree but I have a lot of stuff to do through and plan and figure out before I take that big step. Ideally I'd like to go for next fall, but there is a lot that needs to be done before January (when the application is due) and that is (gulp) only a few months away. So in reality I probably wouldn't do the program until Fall 2013 (they only offer the program beginning in Fall semesters). It's a Masters Degree in Writing and Publishing...right up my alley!
In creative news, I made a sleeve for my Kindle, but will need to fix and/or make a new one because one of the seams started to come undone. I started a hat for Krista but it's slow going because I'm having trouble with a step in the pattern, but I'll figure it out. I also started to make a yoga mat bag, kind of making it up as I go along :)
I started doing yoga three weeks ago with my cousin Caitlin...90 minute hot power yoga every Tuesday. Unfortunately, I was unable to go tonight because I got out of work late, but I'll be there next week. I purchased some yoga books and accessories (strap & block) from Amazon last week so I should be getting that stuff within the next week !
So, I put
Feeling:

accomplished
What is your favorite foreign film? Do you think there should be an American remake?
My favorite foreign film is La Bella Vita. And a remake should NOT be made.


We had a nice Fourth of July weekend; BBQing, pool time, drinks, fireworks, family, friends....all around good time.

Confession: I bought more yarn on the Joann's Fabrics website...yikes. haha I have a whole plastic bin filled with yarn (and a Michael's shopping bag from a more recent purchase that probably wouldn't fit in the bin anyway). I buy way too much yarn....I just buy it 'cause it feels/looks nice and I figure I'll eventually use it. The one thing I bought that I actually needed was circular needles. I need them to make a hat for my friend Krista. The pattern calls for three different types of needles to be used and of course I have two of the three needed, but not the ones needed to start the pattern off! I wanted the bamboo ones (I have a nice set of straight bamboo needles) but they were sold out. I have three different types of needles (bamboo, aluminum and plastic) and I find that I like the bamboo best. :)
I need to put a ban on purchasing more yarn and start liquidating my ridiculously sized stash.

In other news: I have actually put The Hitchhiker's Guide to the Galaxy on hold and have been reading The Shroud by Dallas Tanner. It's alright so far; I don't feel that it is extremely well-written but it's an interesting story, so as long as my "grammar police badge" stays off, I think I can get by it. (Mark calls me the grammar police because I try to speak well and sometimes correct others.... oops). One thing that is bugging me is that the author constantly uses the phrase "...was all but (fill in the blank)" (whether it's something like "it was all but empty" or "it was all but dark" or "it was all but destroyed" etc. etc. You get my meaning, I'm sure). And frankly, I've never really quite understood the use of that phrase on occasion because when I most often see it, it just doesn't make any sense. Next time I come across one, I'll put it here to give an example of what I mean.

Ok, I should probably get to work. Hooray for Fridays (and 4-day work weeks!)
I can't believe the first week of July has already come and gone. This year is absolutely flying by. I remember my parents telling me "enjoy your time at school, because it just goes by faster every year" and it's so true. I can still remember the beginning of high school clear as day, yet I graduated from high school 7 years ago. Crazy! (that's actually really scary to think about).
Feeling:

nerdy
The Hunger Games by Suzanne Collins. I started it on June 23, so it took me approximately 5 days to read all 3 books in the trilogy.

I really enjoyed reading it (obviously, since I practically flew through all three books), though parts of me wondered why I continued when children were being pitted against each other and made to fight, literally, to the death. But I couldn't help but get sucked right into the action, the characters, the feelings...

I would definitely recommend them.


Now onto The Hitchhiker's Guide to the Galaxy...


So last night I finished
Feeling:

pensive


Thank you.


Sincerely,
Danielle
Dear Mother Nature,


On behalf of the Northeastern states of the US, I beg you to please stop the rain and let us enjoy some sunshine.

Thank you.

Sincerely,
Danielle
Dear Mother Nature,
Feeling:

gloomy


Bruins won last night. Tim Thomas had the second playoff shut out of his career. The Bruins are now 5-1 on the road in the playoffs.


Yay.

And it's Friday. Woooo
Red Sox won last night.
Feeling:

happy


I can't wait til tomorrow. I'm tired this week and am looking forward to the weekend. Unfortunately, I have to be in work on Sunday, which is actually supposed to have decent weather. Oh well. I'll have Friday off and then the following Monday as well because of Memorial Day, so a four-day weekend for this girl. Woo hoo!

I'm planning on buying a Kindle tomorrow. I'm going to the local Target, with crossed-fingers that they still have some in stock!

I'm going to take Sonny for a walk then settle in to watch game 3!! Yikes. Here we go B's!
Following in the vein of a friend's earlier post, we've had crappy weather all week long and for most of last week too. But today, at lunchtime, we actually saw very faint shadows as we walked outside. We couldn't believe it. Then when we left around 4:30 it was downpouring :(
Feeling:

cheerful


Red Sox: really slow start, not a terribly enjoyable beginning to the season, but there is plenty of time left to pick it up.

Celtics: knocked out of the playoffs last night.

Oh Boston.
Bruins: One more series before the Stanley Cup! Next series starts Saturday.
So it's been about 5 weeks since Mark and I (and Sonny) moved in together and it's been great. It also seems like it's been much longer than that! Things are going well and we are very happy. :)
I made another hat for him and it looks WAY better than the first.
(
The Hat
Collapse
)
I also picked up the blanket that I started for MaKayla at the end of last year...I'll eventually finish that and post a picture.... eventually.
I love Ravelry because I want to try and find new things to do and there are SO many patterns to choose from, it's actually kinda crazy... haha I have about 60 different things marked to try at some time or another....including a cute bag pattern I just started this week. It's super cute! I joined a group on Ravelry called Pattern Partners and there are a few of us in the group (it was just created this week). The idea is that people join and suggest a pattern they want to work on and other people can work on it with them so they can each bounce ideas and questions off of each other...so a knitting or crocheting buddy. I posted the bag pattern in the group and one of the members said she would work on it with me so I'm looking forward to that!
I'll post pictures of that too :)
Ok I'm going to watch the B's game, but I felt like posting since it's been a little while...
I'm at:

my apartment!

Feeling:

cheerful

Listening to:

Jack & Brick's commentary